Tell us about Barett and how he is special
Barrett is a 2 year old Bull Terrier. She came all the way across the country from California in August of 2012 and got her name from her Daddy's favorite gun. We got her because our first bull terrier, Palmer (named after his Daddy's favorite golfer), was 14 and my husband thought she could learn all of Palmer's good behavior as a puppy. Palmer passed onto the Rainbow Bridge in December of 2012 and six days later Barrett was diagnosed with dual luxating patellas (knees). At the tender age of 7 months, she underwent 2 different surgeries on each knee to fix the problem, each knee surgery was then followed with 30 days of rehab up in Wilmington. Today, a year and several pins & screws later, she shows no signs of knee issues and has fully recovered and healed from her surgeries. Had someone else adopted Barrett, it is likely that she would have been put down because of her knee issues, but we had to try and give her the best life that we could and she deserves! We think we made the right decision…… :)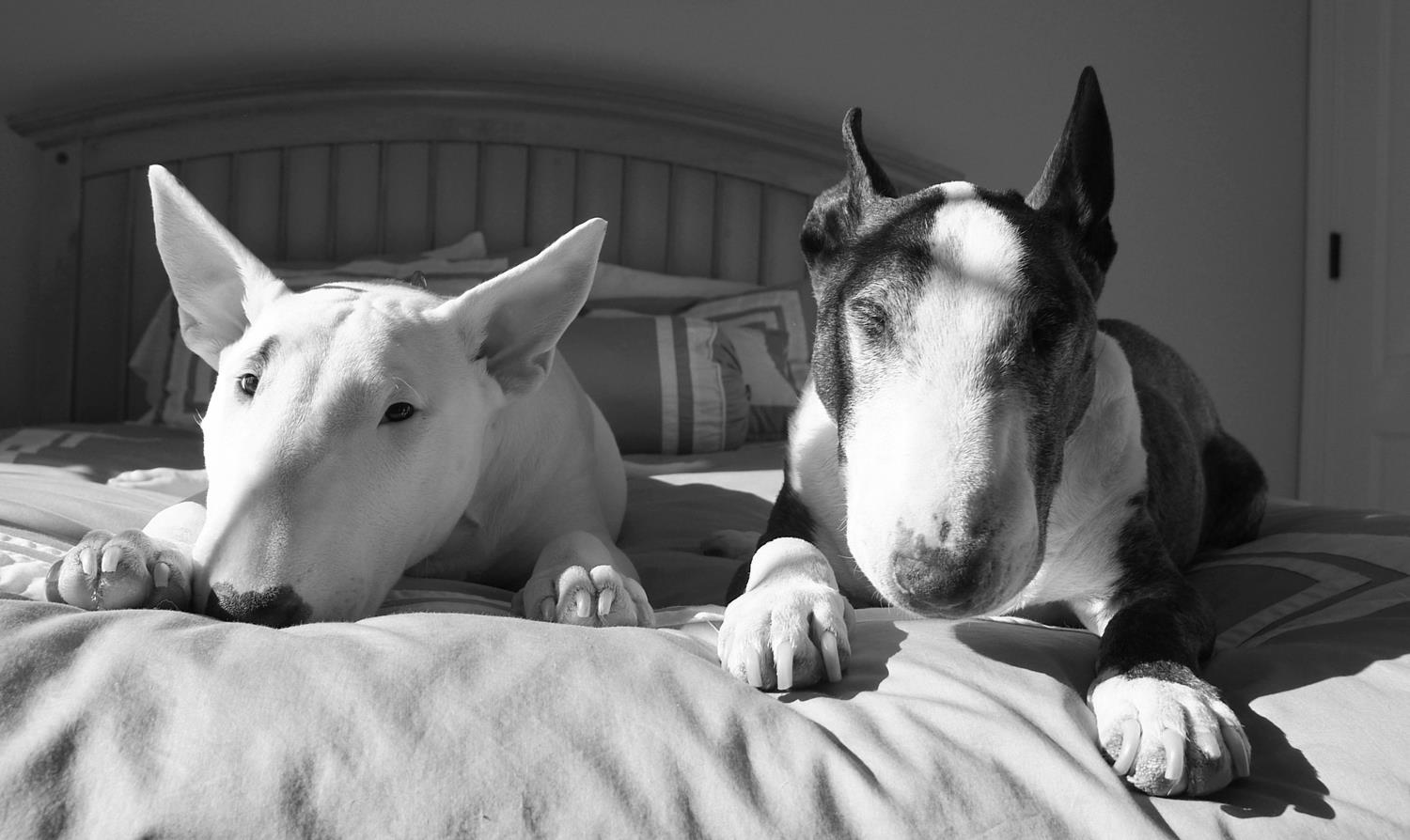 What best piece of advice would you give tourists who visit North Myrtle Beach with a pet?
Sandspurs are the worst on your furry friend. Pay close attention when you are walking them and I would recommend booties if they will wear them. The festivals are also great places to take your pet as they are outside and lots of people, so be prepared for everyone to want to pet and see your dog. Obviously, if you pet is scared of people or aggressive, I would not encourage you to take them to the festivals. I always ask people to ask me before they try and pet my dog – especially children. If I see someone coming to my dog with their hand out ready to pet her – I simply ask them to ask me to pet her first before just making a move to her. I require her to do a down and stay prior to getting any attention from strangers – I want to do this each and every time, so I appreciate everyone helping her and me to comply with my rule.
Do you offer beach houses and condos at Elliot Realty? What is the difference?
We have beach houses and condos that are pet friendly. Most are houses, but we do have a couple condos that are pet friendly year round. More condos are pet friendly durning the off season, so if you are willing to come to the beach October – March, your choices are more varied. Most of our pet friendly vacation rentals do require some sort of a pet deposit. This deposit is fully refundable once you return home and the property has been inspected and returned in the same condition as it was rented.
Do you have a good groomer you would recommend?
My dog has short hair, so I just bathe her every other week and she's good to go!
Is there a supplier in the area for dogs who need special nutrition and what do you recommend?
Barrett requires special food and we order it from Wags to Whiskers off of 5th Ave S in North Myrtle Beach. I let them know at the end of the week and they have it in on the next Thursday! Very easy to talk to and deal with – plus they normally have a dog and a couple cats hanging out in the store!
Where is it ok to take my dog to shop?
Most all of the pet stores (Petco, Petsmart and Wags to Whiskers) encourage you to bring your pet with you if they are on a leash. As usual, if you have a people or animal aggressive pet, I would not recommend you take them.
Are there any laws in North Myrtle Beach about having your dog on a leash on the beach?
Yes, during the season you can't have your dog on the beach from 9-5 and as always, you must have your dog on a leash at all times, plus clean up after your pet (no one likes to step in a stinky pile left by your dog)!